Trinity Family,
My daughter Sarah, has a 1-year-old German Short-hair Pointer named Bella.  Bella is full of energy and I mean REALLY full of energy. The other night Sarah sent me a picture of Bella standing in front of the window looking out at the birds. Sarah opened the door to let Bella chase birds.  Anyone with dogs knows exactly what Bella did… she went to the same window she was standing in front of on the inside, and now stood on the outside looking in at my daughter sitting on the couch.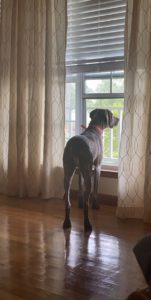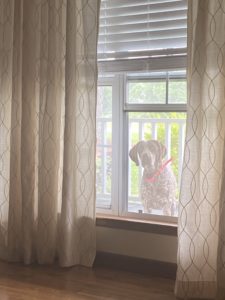 That kind of represents the way we are acting during this COVID crisis.  We complain that we don't have enough time to do the things we want to do at home and now when given the time (and mandate to stay home) we want to go back to our "normal" routine.  We are kind of fickle people in our desires.  Granted, there are some people whose lives have been tremendously disrupted because of having to stay at home.  Small business owners, employees in the restaurant and retail industry have felt a significant impact in their lives.  Business as usual for everyone no longer feels familiar and we worry about our health, the health of our families as well as our economic health.  I really wish I had the answers for when this topsy-turvy experience will end for us.  From the COVID virus to tornados on two consecutive weekends… I'm just thankful locust and frogs are not showing up… yet.
How do we keep our homes and lives focused and centered on the positive rather than allowing the negative to sweep us away?  I personally have found spending time in reflection and giving thanks to God for His unchanging hand has kept me grounded and secure.  It has provided me with a peace, certainly not as the world gives peace because right now worldly peace is hard to find!   If my daily consumption of news is the predominant focus of my attention then I would most certainly have spiritual indigestion.  Let me encourage you to stay informed, but not focused on the news.  Instead, simplify your life by spending time reading God's Word and sitting on your front or back porch listening to creation sing His praises.
Why should I feel discouraged
Why should the shadows come
Why should my heart feel lonely
And long for heaven and home
When Jesus is my portion
A constant friend is He
His eye is on the sparrow
And I know He watches over me
His eye is on the sparrow
And I know He watches me
-Pastor Ken