Trinity Kids
Sunday Mornings for Children
8:30am & 11:00am Nursery
During our 8:30 a.m. and 11:00a.m. Worship Service a nursery is provided for children birth -5 years old. 
9:40am Children's Sunday School
All children's Sunday School Classes use Cokesbury's Deep Blue Learn and Serve Curriculum
Nursery (birth – 2 Years) Room E4
Teachers- Patty Noe, Amanda Veasy, Helen Taylor, Apple Wilkerson
Preschool (2-5 year olds) Room E3
Teachers- Donna Cognasi, Jeanette Neese, Cindy Schmaeman
Early Elementary (Kindergarten-1st grade) Room F2
Teachers – Pam Anthony/Krystal Beatty/Candy Moore/Lynn Burkett 
Middle Elementary (2nd-3rd grades) Room F3
Teachers – Bettie Henderson/Lindsey White/Carol Ferguson 
Older Elementary (4th/5th/6th grades) Room F4
Teachers – Janet Branch and Christine Cash 
11:00am Children's Worship
Children's Worship (Children 4 years-6th grade) Sanctuary and FLC
Teacher: Theresa Keith-Children's Minister
Children gather together for a fun and meaningful worship experience. Children perform the service each week by leading prayers, reading scripture and finding the verses in their bibles. Each week we play a game relevant to the scripture topic.
Wednesday Nights for Children
( September 13th-November 15th)
6:30-7:30pm Children's Choir
Growing in Grace Curriculum
Children's Choir will include some game time and free play time so children have time to cultivate relationships with their peers.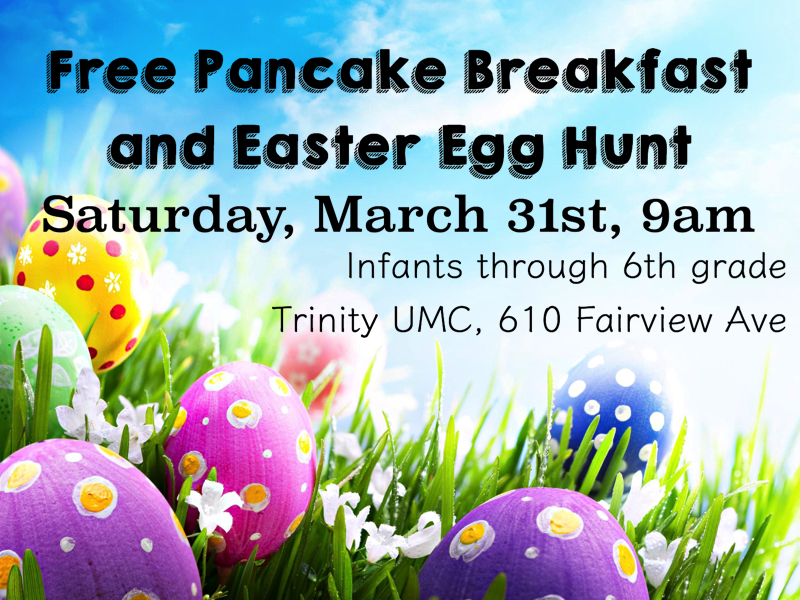 Invite your friends and family. Egg Hunt will be divided into 5 age groups, bring your basket to collect eggs.